just found objects

2015, Soundsculpture, Woodenboards 30 x 30 cm
Exhibition view, Transducing the City, Heiligen Kreuzerhof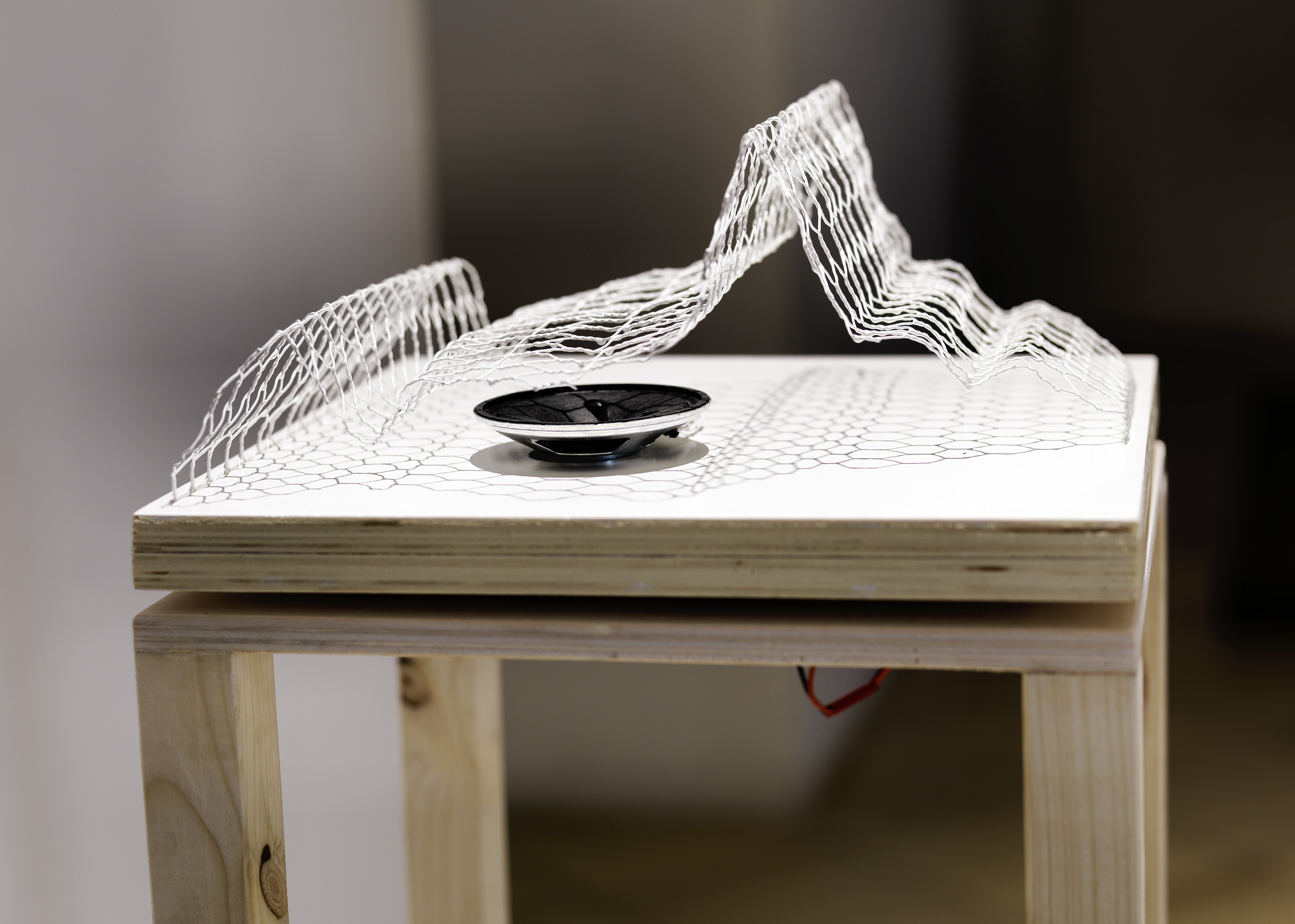 Vier Klangobjekte sind auf einem Tisch aufgereiht. Jedes Objekt besteht aus einer Holzplatte, darauf eine fragile Drahtstruktur und ein Lautsprecher. Das Soundmaterial entstand aus den "Electrical Walks" ein spezieller Kopfhörer der elektromagnetische Strömungen hörbar macht.(Christina Kubisch)

Alex Kasses fokussierte sich im Laufe der Arbeit auf das visuelle, grafische Material der Klänge, dass mithilfe einer Musiksoftware sichtbar gemacht wurde. Vier grafische Wellenformen wurden im Verlauf des Prozesses gefunden und in eine andere Materialität übersetzt. Die Aufnahmen der "Walks" wurden resynthesiert, die Töne schweben aleatorisch zwischen den vier Objekten umher; ein Mikrokosmos im Mikrokosmos entsteht.

--

Four sound objects are lined up on a table. Every object con-sists of a wooden board, a fragile wire structure and a loud-speaker. The Soundmaterial is collected from the "Electrical Walks". (Christina Kubisch)

Alex Kasses focussed on the graphic material of the sound, visualised with the help of a music software.
Four graphic waveforms, found in the course of the process were translated into another material.
The recordings of the "walks" were resynthesized and the tones float around between the four objects in an aleatory manner, producing a microcosm within a microcosm.